After unforgettable 13 years in Salacgriva, during which the popular music and art festival Positivus in Latvia has become a special event in many people's lives after the two-year break will start a new beginning this summer. On July 15th and 16th Positivus festival returns and will take place in a new location in the capital city Riga, Lucavsala park territory.
Lucavsala park has become a popular recreation place and perfect location for the festival. With the beautiful scenery of Riga, Lucavsala park is located alongside the Daugava river and is easily accessible from the city centre and gathers everyone who wants to enjoy nature while remaining close to the city. Positivus festival will continue to delight thousands of people with amazing music program and this year's festival line-up includes participation of unexpectedly strong artists – A$AP Rocky, Megan Thee Stallion, Jamie xx, and many more. Tickets are available at www.positivusfestival.com.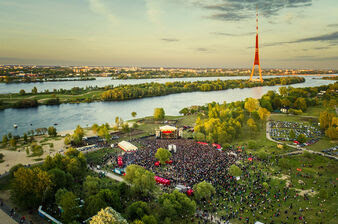 An absolutely global musical phenomenon, a cultural icon, and one of the hottest words in women's hip-hop music scene – Megan Thee Stallion will perform on Friday, July 15th. She's known as a hitmaker with cheeky style and an impressive star with a great personality. ​​In 2019 Megan Thee Stallion burst into the American hip-hop scene, joining the major league of female rappers. Megan Thee Stallion is a three-time Grammy winner ("Best Rap Artist", "Best Rap Performance", "Best Rap Song" with "Savage") and an evolving cultural icon. After the EPs "Fever" and "Suga" she released her debut album "Good News" in 2020, and her two tracks went to the top in USA  – "Savage" (remix featuring Beyonce) and "WAP", where she joined Cardi B. Most recently the artist had a collaboration with the pop star Dua Lipa for the song "Sweetest Pie". 
Jamie xx creates the most beautiful mix of fine indie, R&B, and dance music imaginable and is well known around the world as a key member of The xx. On Friday, July 15th Jamie xx will bring back sweet memories from Positivus festival in 2013, where we experienced the charming The xx concert. The subtle blend of music mix he has crafted with The xx has made him a sought-after remixer for such artists as Adele, Florence + The Machine, and Gil Scott-Heron. In 2015, Jamie xx released his widely acclaimed debut album "In Colour" with songs like "Loud Places", "I Know There's Gonna Be (Good Times)" and "Gosh". In 2020 he dropped his latest single "Idontknow" all while staying busy DJ:ing, remixing, producing and working on new material with The xx. 
Positivus festival has been the largest popular music and art festival in the Baltics, which has taken place in Salacgrīva since 2007 and has gathered up to 30,000 music lovers from Latvia and abroad every festival year. The festival has gathered many important and well-known foreign music stars like Muse, Nick Cave, Robert Plant, Iggy Pop, Imagine Dragons, Ellie Goulding, The xx, Sigur Rós, Sinéad O'Connor, and many others, a total of several hundred famous musicians of different generations. Positivus festival has been mentioned in foreign media along with other festivals in Europe that are worth attending and has been nominated for various European festival awards. 
Announced Positivus festival 2022 line-up so far: A$AP Rocky, Megan Thee Stallion, Jamie xx, Caribou, Thundercat, Yves Tumor & Its band, SoFaygo, Bas, Moses Sumney, black midi, Black Country, New Road, ansis, Citi Zēni,  Arturs Skutelis, rolands če, Būū, Edavārdi, Prusax, VIŅA, Sudden Lights, Sigma, Elizabete Gaile, MUUD, Ods, Zeļģis, Nova Koma, $ourJ. Many more artists will be added soon.