Taking Place At The All-Inclusive Four Diamond Paradisus Resort And All-Inclusive Four Star Fiesta Americana Condesa
Intimate, limited capacity adventure
"Star Studded" – Dancing Astronaut
DECEMBER 2nd – 4th 2022 | CANCÚN, MEXICO
Sign up for the pre-sale Tuesday, April 19 at 10am PT @ https://embershores.com/
April 18 @ 10am PT: loyalty pre-sale
April 19 @ 10am PT: pre-sale
April 19 @ 11am PT: general on sale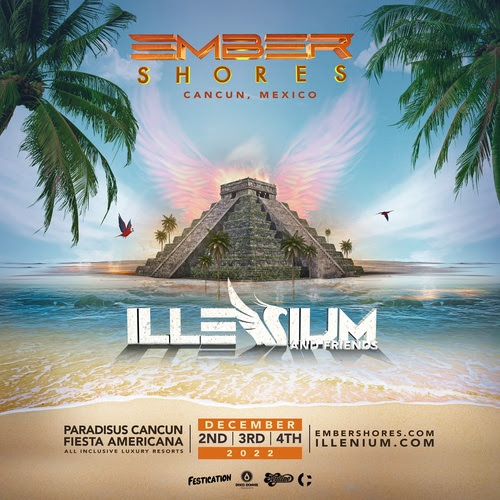 Disco Donnie Presents, Feyline, and ILLENIUM are proud to announce the return of Ember Shores, taking place at the all-inclusive Four Diamond Paradisus Resort and all-inclusive Four Star Fiesta Americana Condesa in Cancún, Mexico, December 2 – 4, 2022. For previous attendees, there will be a Loyalty Pre-sale April 18th 10AM PT. General Pre-sale will begin April 19 at 10 AM PT and tickets will go on sale to the general public April 19th at 11 AM PT. Ember Shores is an extremely intimate 18+ event where Illenials from all over the world can come together and share their love for each other and the artists they admire. 
2021 marked the debut of this inaugural event and it was met with unbridled anticipation, selling out in less than two hours. Heavyweights like Big Gigantic and Ray Volpe, Trance titans Jason Ross and Cosmic Gate, and house dynamos like Dr. Fresch and Golf Clap joined over 30+ artists on the white sandy beaches of Cancún. ILLENIUM performed seven DJ sets, four being surprise sets as he made appearances at various after parties and delivered his first-ever festival drum and bass set on the pool stage. 
Ever since Ember Shores 2021 wrapped, fans have been buzzing with excitement for this second installment Ember Shores. This year the festival is expected to go bigger and better than before, specifically designed to deliver the highest quality fan experience. The 2022-edition will be taking place at the gorgeous all-inclusive Four Diamond Paradisus Resort and all-inclusive Four Star Fiesta Americana Condesa. ILLENIUM will be performing three unique sets on multiple stages throughout the three days, joined by a lineup curated by Illenium himself, catered to his dedicated fanbase. 
"This past year Ember Shores was one of my favorite events ever. Can't wait for the 2nd edition!! See you in paradise!" – Nick Miller (ILLENIUM)
 Attendees can expect to see some of the scene's top artists returning to Ember Shores, along with constant collaborators of Illenium, to perform at the Phoenix (Poolside), Ember (Beach), & Ignite (Atrium) stages from early afternoon into early morning hours. Again keeping the fan experience in mind, the stage production will be epic and ensure that there will be no set time conflicts. Fans can count on another year packed with surprise appearances and B2B's, afterparties, artist signings, and memories to last a lifetime. 
"Ember Shores 2021 was truly a special event and Festication is excited to bring Illenium back to Cancún for what is sure to be another incredible weekend….We're very proud of the production value Festication and our artist partners bring to the fans and we look forward to continuing to go above and beyond."  -Tyler Fey 
"Festication is proud to partner with Illenium for the anticipated second year of Ember Shores at the Paradisus in Cancún. The input from the Illenium team has been key in the Ember concept resonating so powerfully and authentically with the fan base. We're excited to bring Nick's fans back together in a destination like Cancún." -Disco Donnie
 Each guest is considered a VIP and the Festication experience reflects that mission. Packages start at $988 USD per person and include three nights' stay at either resort with all inclusive food and drink (including alcohol), transportation to and from the resort, and access to every show throughout the weekend. If attendees would like to extend their stay even longer, all inclusive packages are flexible to accommodate. Ember Shores also offers add-ons of exciting adventures off the beaten path, including catamaran expeditions, tours of Mexico's famous Cenotes and many other excursions.
 Ember Shores is part of a series of destination events presented by Festication, a brand founded by Disco Donnie Presents, and Feyline who share a combined 75 years of experience in live events and festivals. Live events run in Feyline President Tyler Fey's DNA whose father Barry Fey was a legend in the music industry who helped usher in the golden era of touring and Rock & Roll including being the first promoter to bring Led Zeppelin to North America. 
Disco Donnie Presents and Feyline have fostered relationships with some of the finest resort properties around the world, combined with top-tier production in each and sets from today's best headliners, FestiCation brings unforgettable super-fan experiences to life! 
This announcement comes just in time as the second ever Festication event, Excision's Paradise Blue, is set to take place April 29 – May 1. Festication continues to awe fans and artists alike with their innovation and we look forward to seeing more events from this team.